A new event in the series of lectures of the 1703 annual program took place in the Manege exhibition hall
All events
Evgenia Serousova, a researcher and curator of the Russian Museum, founder of the conceptual space MAISON25, presented a talk on how and why to collect digital art.
Evgenia spoke about blockchain's impact on the artistic world, as well as how NFT technologies helped to shape a decentralized independent environment, smart contracts abolished the need for middle men between the artist and his audience, while VR and metaverses brought new opportunities for exhibiting.
The lecturer shared her personal take on investing in new media and touched upon well-known and promising trending creators in digital art, and most significant fairs and galleries that deal with intangible collectibles. Market forces that shape pricing mechanisms and affect the cost of digital works were also discussed during the program.
The lecture was broadcast at 1703's page on VK, where by the time the event ended, the broadcast had got 60 thousand views. The recording is available in the fair community in VK.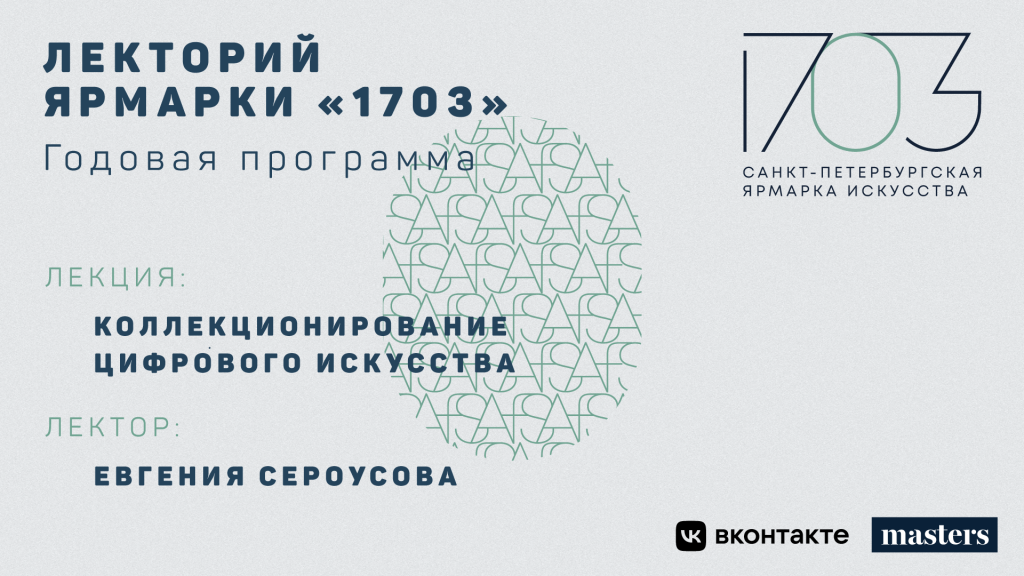 Earlier in March, the first lecture in the annual program of 1703 art fair had been held during which a collector and philanthropist Evgenia Popova shared her experience and spoke about collecting.
The lecture program of 1703 art fair is designed to draw attention to the topics of contemporary art, to acquaint the audience with back-of-house details of art fairs and biennales, as well as their role in the art industry.
In the run-up to the fair, leading experts in the field of contemporary culture will talk about how to understand and collect the works of contemporary artists, as well as new art and other popular areas of artistic work.